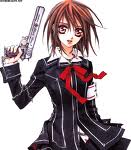 Biography
Yuki Cross/Yuki Kuran (黒主 優姫, Kurosu Yūki/ Kuran Yūki 玖蘭 優姫?) is the adoptive daughter of the headmaster of Cross Academy, Kaien Cross and a school guardian. Ten years prior to the start of the series, Yuki was rescued from a vampire attack by another vampire a pureblood, Kaname Kuran. She lost all memory of her life from before the attack, and was adopted by Headmaster Cross. After Zero's vampire nature is revealed, she begins giving him her blood to drink, hoping to halt the degradation of his human nature. However, Yuki loves Kaname, who has always been protecting her and has been by her side during her childhood as a vampire. Yuki's powers are unknown. When Rido Kuran and his Clan of followers resurfaces at Cross Academy, Yuuki's memories were unlocked after she was re-awakened, revealing that she was actually a pureblood vampire, both Kaname's sister and his fiancee.[2] The revelation of her pureblood status caused a deep rift between Zero and Yuki. Yuki now plays the role of a pureblood princess and has approached other purebloods offering her services to any suicidal purebloods.
official source:
http://en.wikipedia.org/wiki/Vampire_Knight
Yuuki's Profile from the official fanbook:
Belongs to: Cross Academy, Day Class
Age : 16
Blood Type : O
Height : 152cm (almost 5 feet)
Record at School : Bad
Best Subject : Physical Education
In school special activity : Guardian/Disciplinary Member
Weapon she uses : Artemis
Family : Chairman Cross
Favourite Food : Kami
The Person whom you respect : Yori, Kaname
Hobbies : Cooking
Kaname on Yuki : "Superior to everyone, don't you think ? She's like the sun, which is no lie, it is a red connection… More, it is lovely smiling face which doesn't worry that pulls a strong chord in me which forces me to change forever what is rough. I only want the smiling face that does not worry about being a princess".